We had a great week at ProMat! The 2023 conference boasted more than 1,000 exhibitors showcasing new manufacturing and supply chain solutions, 150 educational sessions, and more than 50,000 attendees representing 178 countries! According to MHI, ProMat 2023 was the largest ProMat event to date! Here are some of the Synkrato highlights from this year's show.
Synkrato Product Update Launch
Synkrato is committed to simplifying transformative technologies to make supply chains more resilient, reliable, and scalable. At ProMat 2023, Synkrato announced the integration of its AI-Driven Logistics and Digital Twin modules to improve slotting efficiency and warehouse operations. Using input from the slotting algorithm, Synkrato Digital Twin is now able to provide ongoing recommendations on where to store, find, and relocate inventory, improve warehouse capacity utilization, and find optimal picking routes. You can read the full update
here
.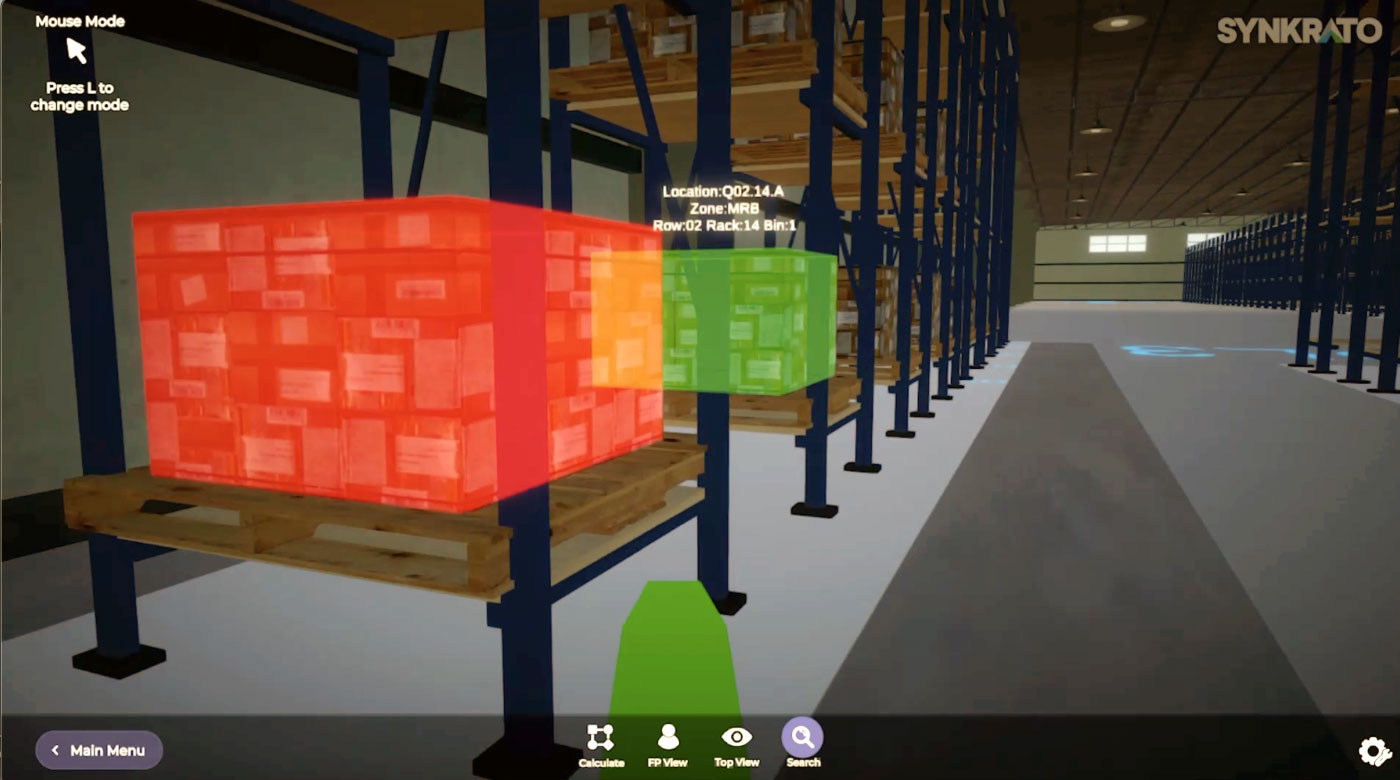 Synkrato in the News
The Synkrato Digital Twin and AI-Driven Logistics update made a big splash in supply chain news.
Modern Materials Handling
, a news organization of the largest supply chain newsgroup PeerLess, reported on the update. Modern Materials Handling was also one of the official outlets covering ProMat 2023 to provide new product information and important updates in real time from the show floor. Other news outlets covering the Synkrato update include American Journal of Transportation, IT in the Supply Chain, Manufacturing Tomorrow, and Logistics Business.
Synkrato Executives Amin Sikander and Jason Mancuso win Pros to Know Award
Every year Supply & Demand Chain Executive releases the Supply Chain Pros to Know list to recognize outstanding supply chain executives whose accomplishments offer a roadmap for other professionals. The Pros to Know list was released at ProMat at the Supply & Demand Chain Executive industry partner party.
We are proud to report that two Synkrato executives, Amin Sikander, president, and Jason Mancuso, product director, were included in the 2023 Pros to Know list and recognized for their accomplishments, support, and positive effect on the supply chain industry.
Marina Mayer, editor in chief of Supply & Demand Chain Executive and Food Logistics, said, "This year's list is filled with supply chain professionals whose achievements and success stories have helped move the needle in the supply chain. They promote safety, sustainability, and workforce development. They work toward helping heal the supply chain." Read the full announcement
here
.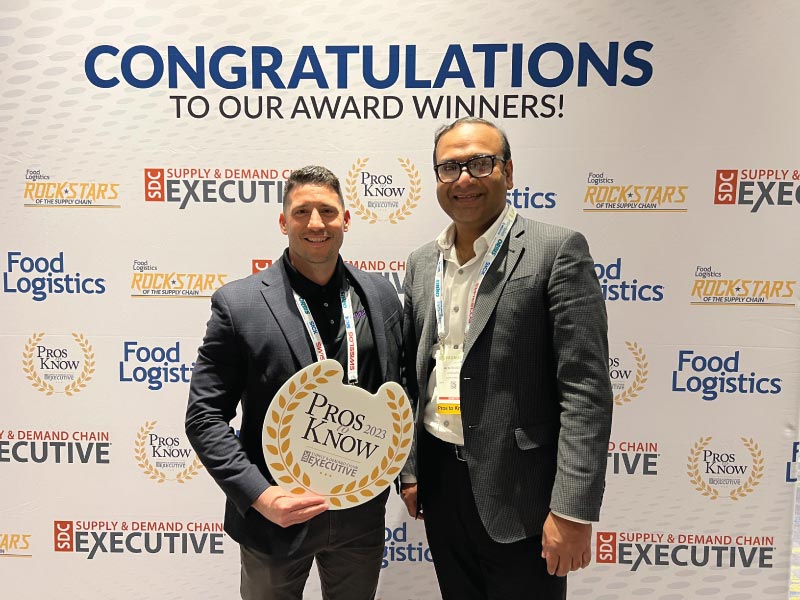 MHI Industry Night
The Synkrato team attended the MHI industry gala featuring comedian Nate Bargatze. During this networking event, MHI announced the winners of the MHI Innovation awards, including Synkrato as one of the finalists for the
Best IT Innovation category
.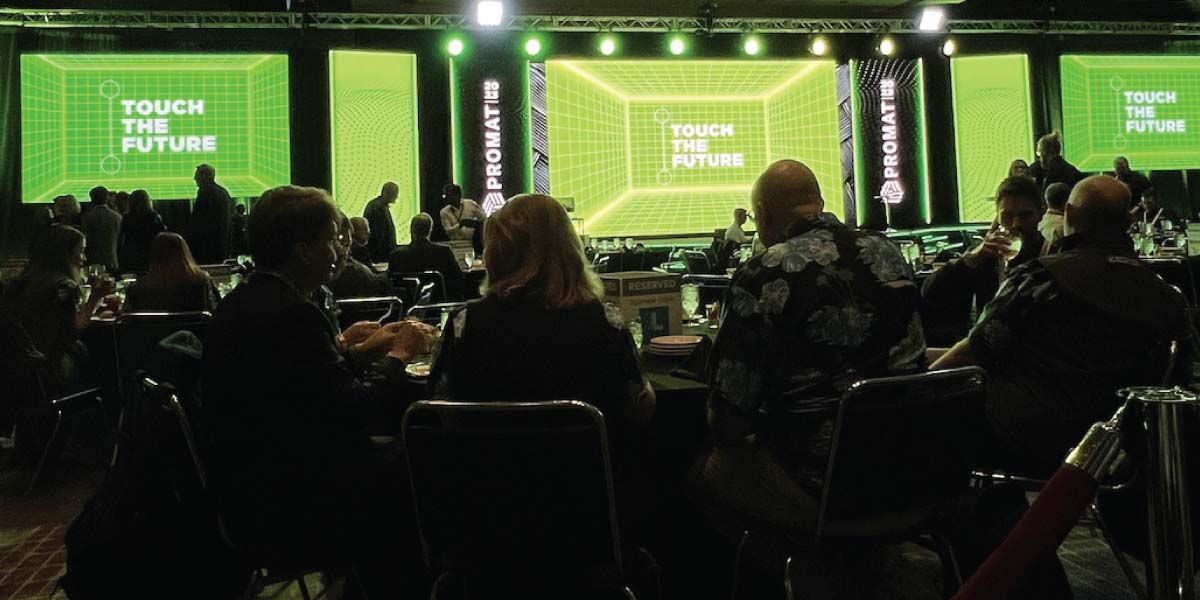 "Four finalists were chosen as the most innovative products in each of their respective categories," said Greg Baer, MHI VP of sales. The finalists were shortlisted after five independent judges reviewed 156 submissions for ProMat 2023 across three categories: Best New Product, Best IT Innovation, and Best Innovation of an Existing Product. Congratulations to the winners, Agility Robotics, OneRack, and Hai Robotics.
From the entire Synkrato team, thank you to everyone who visited our booth to engage in conversations about how to increase warehouse efficiency. We'll see you all in Atlanta at MODEX 2024!
To learn more about Synkrato Digital Twin, AI-Driven Logistics, Mobility, or how to centralize and streamline labeling operations with Digital Labeling, schedule a demo with our team today.