Synkrato Team Included in the 2023 SDC Executive Pros to Know List
The Pros to Know list recognizes outstanding executives whose accomplishments offer a roadmap for other leaders looking to leverage the supply chain for competitive advantage
Chicago, Illinois, March 22, 2023 — Synkrato, the next-gen logistics platform with digital twin, warehouse slotting, mobility, labeling, and IoT, today announced that two of its top executives are included in the 2023 Pros to Know list.
Today, Supply & Demand Chain Executive presented the 2023 Pros to Know list, recognition given to supply chain executives that positively affected the supply chain in multiple areas. The Pros to Know list was announced at ProMat 2023, one of the largest supply chain solution trade show, and awarded Synkrato President Amin Sikander, and Product Director, Jason Mancuso.
Marina Mayer, editor in chief of Supply & Demand Chain Executive and Food Logistics, said, "This year's list is filled with supply chain professionals whose achievements and success stories have helped move the needle in the supply chain. They promote safety, sustainability, and workforce development. They work toward helping heal the supply chain."
"During my 28 years in the supply chain industry, I have witnessed and actively participated in the supply chain technology transformation, most recently with warehouse 4.0 and industry 5.0," said Sikander. "It is an honor to be recognized for our efforts and contributions to the industry. Jason and I lead talented individuals to solve global supply chain challenges, and we accept this award on behalf of the entire team."
The complete list of 2023 Pros to Know can be found at https://sdce.me/4ss5cl.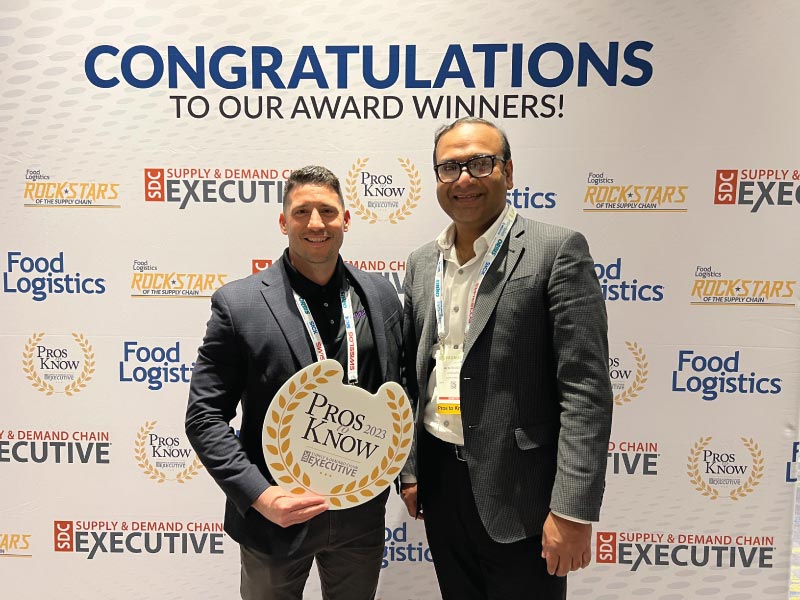 Jason Mancuso and Amin Sikander at 2023 industry party
The Synkrato team has provided leading inventory and warehouse management solutions to Fortune-100 organizations for more than 15 years resulting in the successful management of more than one-billion dollars in inventory for its clients. Synkrato's team has successfully advised on, implemented, and rolled out the supply chain, labeling, and inventory solutions in numerous industries worldwide. Our business-process and information-technology experts provide innovative and cost-effective solutions that improve the operations of some of the largest, most complex firms. Learn more about Synkrato at https://synkrato.com.
About Supply & Demand Chain Executive
Supply & Demand Chain Executive is the only supply chain publication covering the entire global supply chain, focusing on trucking, warehousing, packaging, procurement, risk management, professional development, and more. Supply & Demand Chain Executive and sister publication Food Logistics are also home to L.I.N.K. and L.I.N.K. Educate podcast channels, L.I.N.K. Live, SCN Summit, SupplyChainLearningCenter.com, Women in Supply Chain Forum, and more. Visit SDCExec.com to learn more.
Synkrato and the Synkrato logo are © and ™ Synkrato. All rights reserved. Other names are trademarks of their respective owners.
Media Relations
Marta Call
Corporate Comms
marta.c@synkrato.com
LinkedIn: Synkrato
Twitter: @Synkrato
Synkrato Team Included in the 2023 SDC Executive Pros to Know List