Synkrato Named Product of the Year by MHPN and Modern Material Handling 24/7
Synkrato Named Product of the Year
Modern Handling Product News and Material Handling 247 magazines celebrate the product of the year awards to honor the achievements and advances of companies in manufacturing, distribution centers, and warehouses in fourteen categories (*see full category list at the end of this article).
This year, the supply chain Product of the Year award went to Synkrato.
"We are honored to receive the Product of the Year award. We launched Synkrato early in 2022 and this award helps confirm that we are on the right track to make supply chains reliable, resilient, and scalable. We are committed to bringing the latest technological advances into the supply chain space and creating value for the industry and our customers," said Amin Sikander, Synkrato president.
Leverage AR to Build Living Digital Representations
Synkrato digital twin, the core component for which the company won Product of the Year, leverages the power of augmented reality (AR) to create living digital twins through an intuitive drag-and-drop interface. Built on the gaming platform Unity, Synkrato users can select objects and, as with popular video games, move them around a digital warehouse to replicate a physical facility.
The digital twin can be connected to Synkrato IoT and machine learning algorithms so any change in the physical space is reflected instantly in the virtual representation. Synkrato then considers multiple data points like personnel, pick-up paths, and available stock to run what-if scenarios and provide recommendations based on real-time data.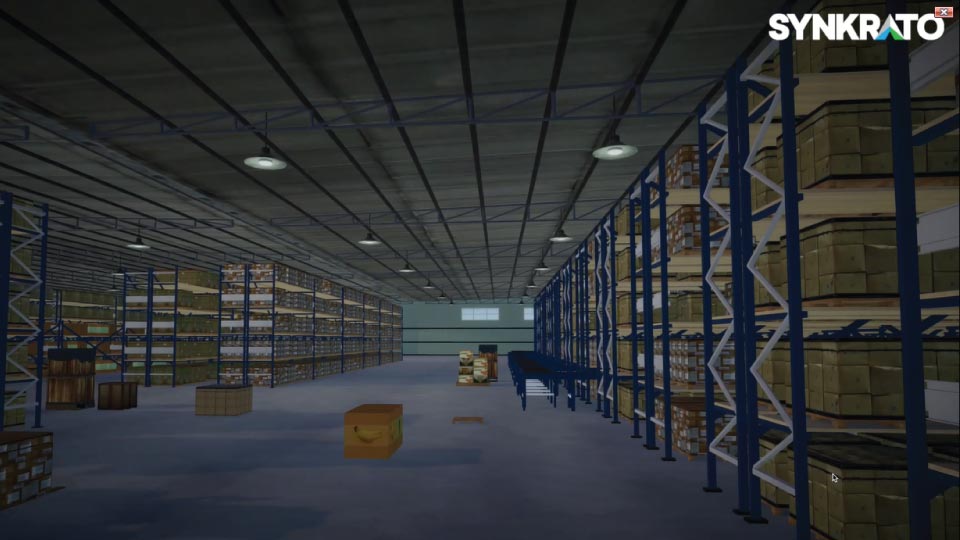 "Warehouse managers face multiple unexpected challenges, including receiving new packages, call-in sick time, last-minute orders, machinery malfunctions. Synkrato allows users to run what-if scenarios to address all these issues," said Jason Mancuso, Synkrato product director.
"Imagine that you're a shoe retailer with multiple warehouses supplying all your stores across the country. You probably have a wide variety of shoes with different seasonal demands. Twenty-thousand shoes are picked up and shipped daily from your warehouse, which means a lot of back and forth to prepare orders. On top of that, you have a peak in demand during the sale season and low demand right after it ends. Synkrato considers all this data and allows you to run what-if scenarios in the living digital twin, for instance, the allocation of personnel and stock to optimize pick-ups. Users can optimize the digital warehouse without making any changes or disruptions at the physical location until the best approach is confirmed."
Break Down Supply Chain and Warehouse Silos
Synkrato is the next generation of supply chain software with five core components: a digital twin to create virtual versions of facilities (covered above); AI-driven logistics to optimize warehouse space using sophisticated slotting algorithms; a mobility platform to build digital forms for all warehouse, manufacturing, and distribution center transactions like receiving, shipping, and moving inventory; IoT integrations to exchange and record real-time data; and digital labeling to manage label templates and print labels from anywhere. All five components are integrated to eliminate data silos and provide full warehouse and supply chain transparency.
Download our eBook,
Warehouse Digital Twin: How to Get Started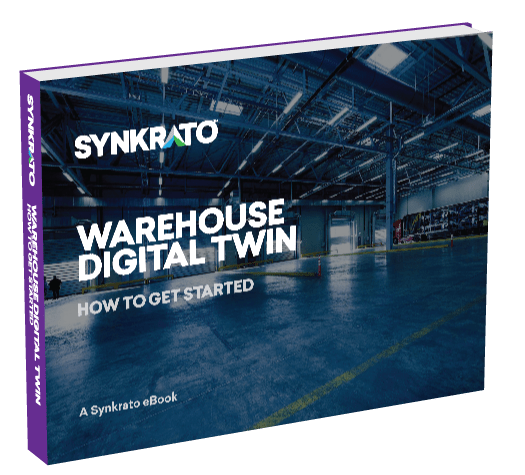 * Award categories: automatic data capture, conveyors and sortation, ergonomics and safety, lift trucks and accessories, MRO, overhead handling, packaging and pallets, racks, shelving and mezzanines, robotic mobile, robotic piece picking, supply chain software, dock equipment, containers totes and bins, and automated storage.
Review the full list of the 2022 Product of the Year finalists and winners here.

Synkrato Named Product of the Year by MHPN and Modern Material Handling