Reverse Logistics and Return Materials Authorizations Costs Reduced by Synkrato Digital Labeling
Logistics research estimates that reverse logistics costs account for 0.5% of total United States gross domestic product (Fraser and Rickett, "Returns Project Gathers Pace"). Varying by industry, the percentage of products returned can range from 2% in highly specialized industrial markets, to more than 30% in eCommerce markets. In eCommerce, it costs twice as much for an item to be returned and processed as it does to sell and ship it (Reverse Logistics, Edition 87).
Reverse logistics costs are difficult to measure without a lot of financial analysis, but the equation published by Reverse Logistics magazine in 2006 and shown below is still widely used.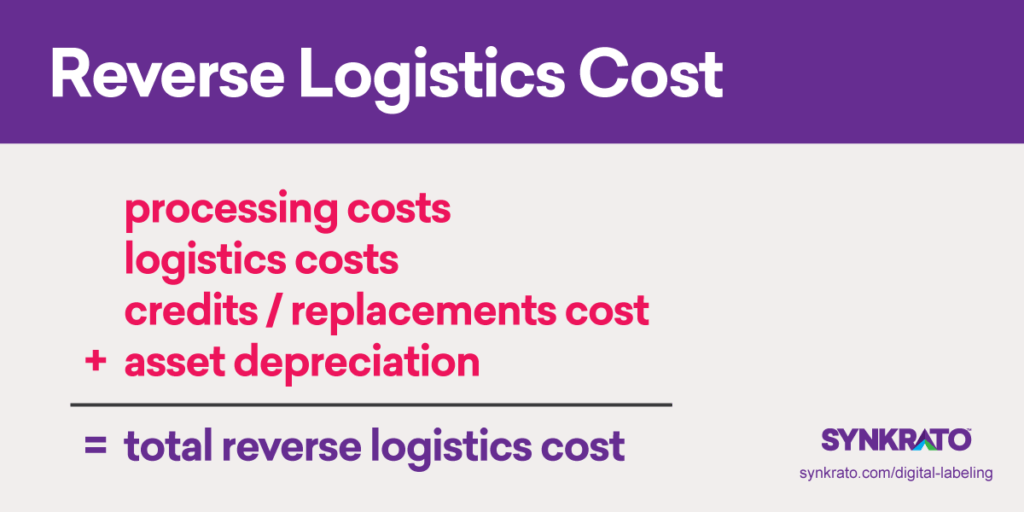 Reverse Logistics magazine broadly defined processing costs as "all costs incurred to process and handle" returns. Logistics costs were defined as "all costs related to moving and handling the returning units" and "the cost related to the shipping of any replacement units." While today's common definition of logistics would include some of the processing costs, one fact remains: reverse logistics is expensive.
Amazon, the world's largest retailer, set the standard for today's eCommerce return experience, and retail giants from Walmart to Nordstrom have followed Amazon's lead. Consumers expect returns to be virtually effortless, with nothing more complicated than printing out a return label and taping it to a box. An easy return experience has shown to yield customer loyalty, with 92% of customers saying that they will continue to buy from a firm if returns are easy. Marc Lore, President and CEO of Walmart eCommerce since 2016, has extensive knowledge and experience in returns. His first actions were to have the Walmart eCommerce customer care team report to him and to update return practices (keynote speech, shop.org 2017).
One Solution Addresses Cost and Customer Experience
Leading retail firms have invested tens of millions of dollars or more in computer systems they use to make returns easy, for their customers and for their receiving operations. Synkrato digital labeling offers the same easy customer experience and integrated warehouse experience enjoyed by retail giants for a fraction of the price. By streamlining the return materials authorization process, and by easing receiving steps for returned goods, Synkrato digital labeling also reduces reverse logistics costs.
Reverse Logistics Before Synkrato Digital Labeling
Synkrato digital labeling reverse logistics functionality eases the returns process for customers and warehouses. The simple flow is comparable to flows in expensive systems used by multi-billion-dollar retailers, but Synkrato digital labeling delivers this capability at a fraction of the cost.
1. Initiate an RMA order in your source system.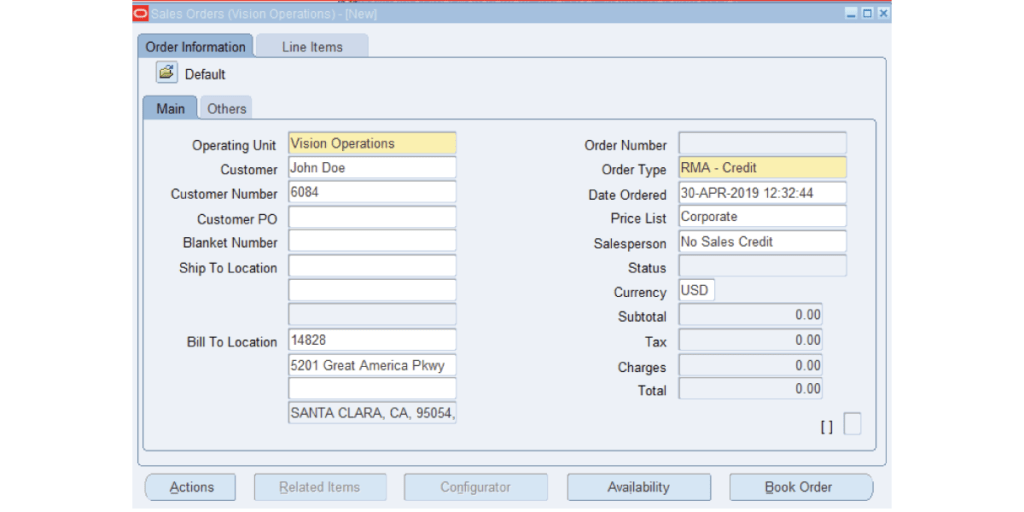 2. Synkrato digital labeling then auto-emails an RMA label with appropriate data to the customer who prints it. Half of the label is placed on the box and the other half goes inside the returned package.
3. Synkrato digital labeling integration is automatically initiated, and your warehouse management system is updated with a pending RMA shipment waiting to be received.
4. The package is received at the warehouse and scanned, effortlessly receiving the correct inventory linked with the RMA and the RMA system is automatically updated.
Oracle WMS Cloud is shown in the example screen shots below.
Synkrato digital labeling streamlines the reverse logistics process to deliver return on investment (ROI) within one month. To learn more about how Synkrato digital labeling can benefit your organization, email us at sales@synkrato.com.
Reverse Logistics and Return Materials Authorizations Costs Reduced by Synkrato Digital Labeling