Build a Resilient Supply Chain
by Integrating Synkrato with Oracle
Transportation Management (OTM)
Resilient Supply Chain: Visibility is Key
Many events affect supply chains and force companies to quickly adjust their operations. It is therefore crucial for companies to have a holistic, real-time view of the entire supply chain to know when, where, and how their shipments will be delivered. Without that visibility, supply chain organizations are unable to address issues in a timely manner. Oracle Transportation Management (OTM) and Synkrato, a next-gen logistics platform, can be integrated to build a resilient supply chain solution that solves this challenge.
Synkrato tracks real-time sensor data with its software agnostic IoT capabilities. Synkrato IoT devices can be integrated with OTM, providing complete shipment visibility in OTM. IoT sensors can determine important route details and capture key shipment data. For example, users can see if shipments are likely to arrive on time, view any route deviations or delays, and how any deviations affect delivery time. Shipments and routes are planned in OTM, and this data is synchronized with Synkrato where in-transit shipments and freight charge reconciliation are monitored, providing real-time route updates.
IoT sensors can also capture ambient shipping data like vibration, humidity, and moisture. These details are critical for products like refrigerated food and medicines that have to be transported under specific conditions.
Cold supply chain issues can affect freight shipments, a challenge for companies and a potential danger for end users. The ability to track in-transit temperatures while transporting these products ensures that they do not spoil. If the ambient temperature changes while products are in transit, IoT sensors send real-time notifications to OTM so companies can immediately address issues, inspect products upon arrival, or, if needed, discard the product before it continues on to stores.
We've covered B2B supply chain shipping, but what happens with B2C products shipped directly to end users? IoT sensors embedded in vehicles play an important role with B2C shipments. When a logistics company identifies that a shipment was likely damaged, they can receive an alert and ship a new product to the customer even before the damaged goods are delivered. In this example, OTM analyzes, consolidates, and records IoT sensor data from Synkrato and works with front-end systems and warehouse management systems (WMS) to create a new shipment for delivery.
IoT sensors can also help manage fleets and assets. With IoT sensors embedded in a truck, Synkrato can detect fuel costs, fuel levels, and speed violations. Knowing the condition of each fleet asset helps companies schedule regular repair and servicing to avoid downtime. This data is sent to OTM and displayed on a user dashboard in real time so that stakeholders have complete visibility. This IoT-powered integration reduces costs and lowers dependencies on labor-intensive tasks like product maintenance and fleet monitoring.
Example Integrated IoT Synkrato, OTM, WMS Cloud Flow
ERP systems send a delivery to OTM.
Using OTM algorithms, OTM builds planned shipments that are shipped from a warehouse.
Required master data like fleet details, maintenance contracts, and routing info is sent to Synkrato.
Planned shipment information created in OTM is sent to Synkrato and Oracle WMS Cloud.
After receiving the planned shipment info from OTM, Synkrato performs in-transit shipment monitoring and freight charge
Synkrato continues to monitor the truck. Any changes to the ETA due to unexpected events are updated and data is sent to OTM.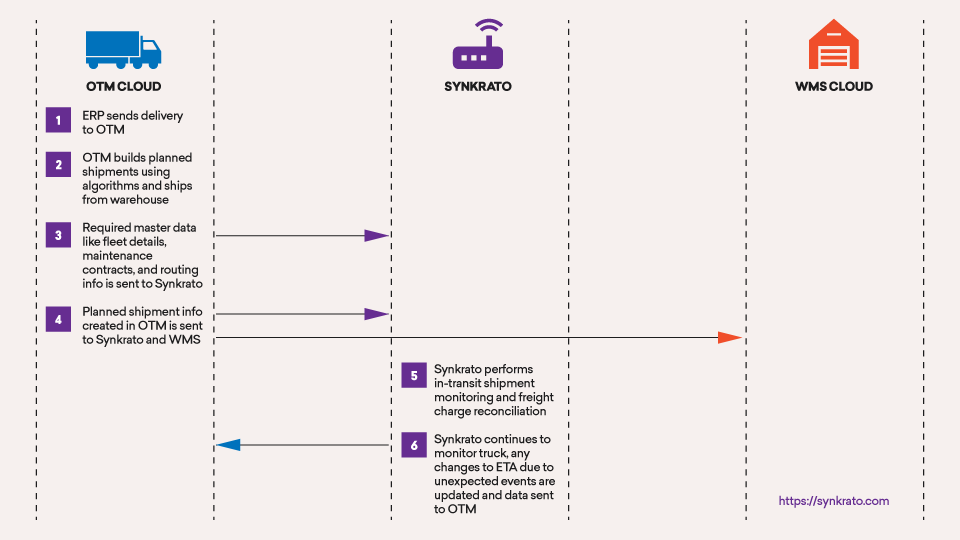 Implement a Resilient Supply Chain Solution
Are you already using Oracle supply chain solutions? Contact us today to learn the benefits of integrating those systems with Synkrato.
Our team has more than 20 years of hands-on experience in supply chain and building and integrating Oracle solutions, including OTM, GTM, SCM, and WMS. Our goal is to deliver best-in-class solutions customized to each client's unique needs.
Build a Resilient Supply Chain by Integrating Synkrato with Oracle Transportation Management (OTM)